Zet, the Arc Warden, is a ranged agility hero that is dependent on micromanagement and multitasking. This is because of his ultimate ability Tempest Double, which produces a perfect clone of himself that takes on his attributes, and can use all his items and abilities.
Unlike Meepo's Divided We Stand, however, killing the Tempest Double clone does not cause the real Arc Warden to die instantly. Instead, it functions more like an illusion, but with the added bonus of having access to Zet's inventory and spells. This gives him a unique advantage, which he can leverage to either dish out more damage in teamfights or push two lanes at the same time.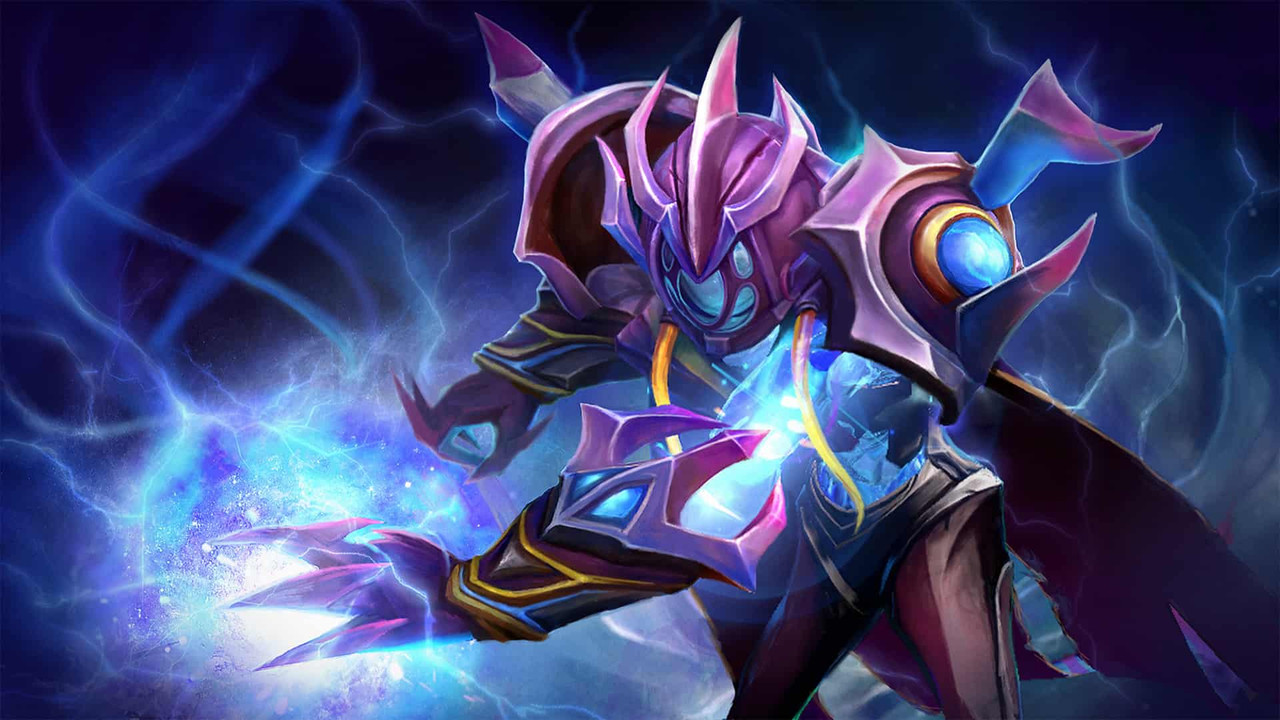 Image via Valve
Outside of his ultimate, though, he still has a lot going for him—particularly in the laning phase. His first ability Flux punishes enemy heroes for being alone, slowing their movement speed and dealing a moderate amount of magic damage over time if there are no other enemy units near them.
Should they choose to stand and fight under the influence of Flux, Arc Warden can improve his chances of winning by using Magnetic Field, his second ability. Magnetic Field protects him and his allies from regular attacks coming from outside the bubble, while also giving them increased attack speed for up to 6.5 seconds.
Meanwhile, Zet can dish out plenty of magic damage with his third ability, Spark Wraith. Spark Wraith summons a ghostly specter that waits for an enemy unit to arrive within its area of effect, after which it chases after the unit in question and damages them on impact. They are also slowed by 100 percent on impact for up to 0.7 seconds, making it easier for Zet and his teammates to catch up to their prey.
While his regular abilities seem totally situational, one must not forget that he can cast them twice due to the existence of Tempest Double. This fact should never overlooked, and can definitely cause problems if ignored. Arc Warden's versatility stemming from Tempest Double allows him to easily carry entire teams—though only if he is able to farm his items at a reasonable pace. Having no built-in farming mechanism hurts his potential, and needs items to farm more items, so to speak. Fortunately, Tempest Double helps with this somewhat. Equipped with a Maelstrom or a Hand of Midas, Zet can almost double the rate at which he earns gold, allowing him to hit critical mass before the enemy team can deal with him effectively.
Arc Warden Skill Build
As a farm-dependent carry, Arc Warden's skill build focuses on his two magic damage skills for the early game (in order to help secure kills in the laning phase when the opportunity arises), and leaving Magnetic Field (his late game ability) for last.
Flux and Spark Wraith are given first priority for obvious reasons. They are, after all, the only methods with which Zet can defend himself with early on, as he has no escape mechanisms or mobility spells to speak of. Maxing them out allows you to deal a respectable amount of magic damage in the laning phase, which can help you boost your farm through hero kills.
Magnetic Field is left alone until Level 8, except in cases where you're going up against a ranged right click carry that does well in the early game (i.e. Drow Ranger). This is because the attack speed bonus isn't all that important to Arc Warden before he hits the point where he can actually start to take teamfights as a carry himself. In addition, the evasion component of the ability does not scale at all with levels, and stays at 100% from the get-go. Tempest Double, on the other hand, should be taken whenever it is available—as it is the very reason you pick Zet in the first place.
Our recommended skill build, therefore, is as follows:
Flux
Spark Wraith
Flux
Spark Wraith
Flux
Tempest Double
Flux
Magnetic Field
Spark Wraith
Level 10 Talent: 8% Cooldown Reduction
Spark Wraith
Tempest Double
Magnetic Field
Magnetic Field
Level 15 Talent: +300 Health
Magnetic Field
Tempest Double
Level 20 Talent: +125 Attack Range
Level 25 Talent: +30% Lifesteal
Arc Warden Item Build
As mentioned in the intro section to this guide, Arc Warden does not have any natural means of flash farming. Both Flux and Spark Wraith are meant to be used on heroes, which means that Zet has to rely on items in order to get his gold.
Hand of Midas is perhaps the most popular choice in this regard. Not only does Tempest Double allow you to use it twice in quick succession, but it also increases your attack speed as well as the rate at which you gain levels. On the other hand, Maelstrom allows you to clear creep waves quickly, with your Tempest Double serving double duty (pun intended).
Going into the mid game, we recommend purchasing a Dragon Lance, so that your attack range gets a significant increase. Later on, you can upgrade it to a Hurricane Pike, which gives you a much-needed escape mechanism on top of some additional stats. Since your Tempest Double can also use Hurricane Pike, you can cover a lot of distance with it if used correctly. Your Maelstrom can also be upgraded to a Mjollnir in the late game, which works incredibly well with Tempest Double due to the fact that you can use the active ability twice.
Orchid Malevolence into Bloodthorn is another viable option for the mid to late game stages. Orchid easily shuts down heroes with hard escape abilities, while Bloodthorn makes short work of evasive targets that don't carry Black King Bar. If the silence isn't needed, though, you can instead opt for a Daedalus—which helps you dish out obscene amounts of damage when combined with Magnetic Field and Tempest Double.
In deep late game situations, you have plenty of options. Scythe of Vyse provides a ton of additional stats, while giving you a useful disable that can be cast twice. Black King Bar might be a good option if you're facing AoE disables, or if the enemy team really makes it a point to go for you first in teamfights. Butterfly gives you some evasion and additional attack speed, which serve Arc Warden well as a carry. Monkey King Bar deals with high armor targets or those that can dodge your attacks, and becomes devastating under the influence of Tempest Double.
Necronomicon gets a special mention, since it helps you mow down towers and barracks like nobody's business. Having two sets of minions should not be underestimated—but be warned: they give away a lot of gold, so try not to get too careless with them.
Arc Warden Combo
Arc Warden's teamfight rotation is actually pretty simple, with the only real hard part coming in when things start to get hectic and your multitasking ability is pushed to its limits. But even that will eventually come naturally through time.
You'll generally want to start teamfights with your Tempest Double already summoned, so that you don't have to spend time getting it out first. Afterwards, cast Flux on the target you want to kill, while putting down Spark Wraiths accordingly to cut off their escape or force them to move away from their allies. You should then use Magnetic Field to maximize your attack speed, while also using any active items that you and your Tempest Double might have. Rinse and repeat as your cooldowns allow to clean up the rest of the enemy squad.
Arc Warden Counter
Tempest Double's split pushing power is one of Arc Warden's greatest strengths, especially since the clone does not cause him to get sent to the respawn queue when it is killed. The clone's presence in a lane different from the real one essentially forces teams to respond, or risk losing towers or barracks otherwise. Thus, heroes with the mobility to keep up with his split pushing antics work well against him. Anti-Mage in particular deals with this style, leveraging Blink and Battle Fury in order to clear waves, Necronomicon summons, and the Tempest Double itself.
Heroes that can take advantage of Zet's lack of mobility are also viable counters. Bristleback can slow him down with Viscous Nasal Goo stacks, while also punishing his lack of armor with Quill Spray. Chaos Knight can simply bludgeon him to death with his Phantasm Illusions, while keeping him locked down with Chaos Bolt and Reality Rift. Phantom Lancer can do the same, especially with a Diffusal Blade in tow. Another thing these heroes have in common is that they all have melee attack range—which Magnetic Field is useless against.
As for ranged heroes, a Monkey King Bar pretty much becomes a necessity against Arc Warden, unless you have the movement speed to chase him into the Magnetic Field. Even if you do, though, doing so is a risky proposition due to the fact that his allies will probably be taking shelter in there as well. Make sure to pick your spots accordingly, and know when it might be better to run away or reposition.
* FirstBlood® is NOT AFFILIATED, AUTHORIZED, LICENSED OR ENDORSED by Dota™, Dota 2™, Steam™, Dota 2™, the Dota logo® and Steam™ are trademarks of Valve Corporation.