Clinkz, the Bone Fletcher, is a ranged agility hero famous for his effectiveness at killing lone heroes and escaping before their backup arrives. This is done primarily through the use of Skeleton Walk, which renders him invisible while giving him a significant increase in movement speed over a fairly long duration.
Skeleton Walk allows Clinkz to go behind enemy lines without putting himself at much risk. Sneaking past Observer Wards and the enemy team's shared vision, he scopes out the land in search of heroes with none of their allies in sight. Once he finds such a hero, he can burn them down with Strafe and Searing Arrows, his two main physical attack modifiers.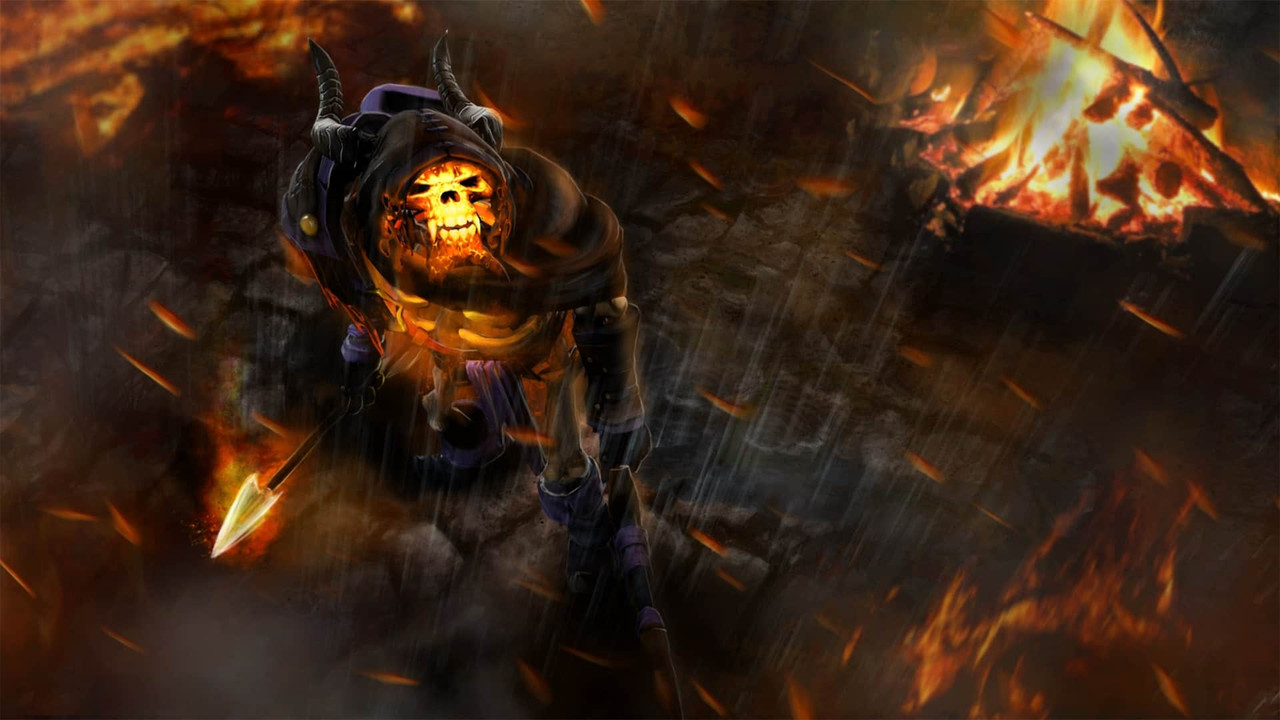 Image via Valve
Strafe instantly increases Clinkz' attack speed for 3.5 seconds, thus greatly improving his physical damage per second. In addition, Strafe gives him a chance to dodge enemy projectiles, acting much like passive evasion—but with the added benefit of evading spells as well. Searing Arrows, on the other hand, adds a flat damage bonus to Clinkz' regular attack, with a small mana cost per shot fired. Combined, Strafe and Searing Arrows jacks up Clinkz' DPS to high heaven—especially when things like Desolator or Daedalus are thrown into the mix.
His ultimate, called Burning Army, summons a battalion of skeleton archers in a line 1200 units long. These archers are immobile, and can be killed by heroes in two hits—but fire Searing Arrows-enhanced attacks of their own. Their attack speed, range, and base damage all stem from Clinkz himself, which means that their damage output increases as the game goes late. Burning Army can easily zone out entire teams during large-scale engagements, forcing them to either disengage and run to safety, or stand and fight under the combined might of the Skeleton Archers.
Clinkz is a huge threat to teams that have no way of escaping his solo ganks, and those that don't pack any detection to serve as early warnings to his presence. If he is able to get rolling early on, it can be very hard to stop his momentum. Of course, Clinkz isn't at all invincible, due to his low base strength and susceptibility to stuns and disables. He also farms excruciatingly slowly, thanks to his sluggish attack animation and lack of a flash farming ability. Without gold, Clinkz quickly turns into dead weight for his team. And lastly, Clinkz' lack of hard disables means that he experiences difficulty chasing after his prey if they are able to move out of his attack range.
Clinkz Skill Build
Clinkz' skill build focuses primarily on improving his extremely poor early game, by giving him the best chance at scoring last hits in the lane. This involves getting early points in Searing Arrows, which can be cast manually in order to get that last bit of extra damage needed to kill creeps. This is supplemented by Strafe, which allows him to secure hero kills early on with help from his lane partner.
A single value point in Skeleton Walk is all you really need in the laning phase, as most heroes won't have enough movement speed to outrun you with Skeleton Walk at Level 1. The scaling isn't all that great compared to your two other abilities, either, so it should be saved for the mid game. Burning Army, though, should be taken at every available level. The increase in the number of Skeleton Archers and the reduction in base attack time between each one are both worth the levels.
Our recommended skill build, therefore, is as follows:
Searing Arrows
Strafe
Searing Arrows
Strafe
Skeleton Walk
Burning Army
Strafe
Skeleton Walk
Strafe
Skeleton Walk
Searing Arrows
Burning Army
Skeleton Walk
Level 10 Talent: +12% Magic Resistance
Level 15 Talent: +30 Searing Arrows Damage
Searing Arrows
Burning Armor
Level 20 Talent: +125 Attack Range
Level 25 Talent: Searing Arrows Multishot
Clinkz Item Build
Because of his extreme fragility and need for more attack speed (Strafe only lasts 3.5 seconds, and 6.5 seconds with the Level 25 talent), Clinkz' typical items will consist of pickups that can protect him in teamfights and allow him to fire Searing Arrows at a consistently rapid pace.
Before that, however, he needs an Orchid Malevolence. This is actually Clinkz' most desired item, as it allows him to shut down most escape or retaliation attempts by his targets. There's nothing that rains on Clinkz' parade more than his prey blinking away to safety, or stunning him in the middle of his Searing Arrows barrage. Orchid's debuff also deals extra damage to the affected target at the end of its duration, which can mean the difference between securing the kill or them getting away. All in all, Orchid is simply perfect for Clinkz, and we highly recommend aiming for it as your first core item.
Once that's out of the way, it's time to go back to the first point in this section. Black King Bar is very useful for a hero that relies so much on momentum, and Clinkz' soft bones demands the protection of magic immunity. Against single target disables that go through BKB, however, you'll want a Linken's Sphere to block those out completely. Against other carries, a Butterfly would serve you well, adding even more evasion on top of Strafe's own.
As for DPS items, your choices will depend mostly on your opponents' draft. Monkey King Bar helps deal with evasive heroes, though so does Bloodthorn—which is perfect against heroes that don't have a reliable way of purging the debuff from themselves. Desolator stacks with Searing Arrows, and is great against picks that don't have a lot of base armor in the first place. For those that do, Daedalus will be your best friend.
If you find yourself unable to keep your targets in place, consider purchasing an Eye of Skadi. Not only does it apply Frost Attack to Searing Arrows, but it also gives you a ton of extra stats, which help you survive heated teamfights longer. On the other hand, Diffusal Blade does much the same thing, but it is obtainable far earlier than Skadi as it costs way less. The Mana Break is also quite useful against mana-dependent heroes.
Clinkz Combo
There isn't really much to say about Clinkz' teamfight/gank rotation, as it is really simple and easy to execute. Normally, you'll want to sneak up to prospective targets with Skeleton Walk, then get close enough to them such that they take as much damage as possible while running away. Once you're in position, immediately activate Strafe, then put Searing Arrows on autocast. If it's available, use Burning Army to cut off their escape. Simple.
Clinkz Counter
As a hero that relies on a built-in invisibility mechanic, planting Sentry Wards and buying Dust of Appearance goes a long way against Clinkz. After all, if you are able to see him coming before he is able to shoot you down, it's a simple matter of sticking next to the closest tower or teammate. Make sure to ask your supports to place wards accordingly, so that you don't get caught with your pants down.
Of course, this means very little in five-on-five engagements, particularly when Clinkz is content to just deal damage from a distance. Disarming him with things like Heaven's Halberd or Huskar's Inner Fire work very well against "turret" Clinkz, preventing him from putting out physical DPS. This does not, however, solve the problem of Burning Army, which is where silence effects come into play. Incidentally, silencing Clinkz also prevents him from escaping with Skeleton Walk, and with his natural fragility this pretty much spells his doom.
* FirstBlood® is NOT AFFILIATED, AUTHORIZED, LICENSED OR ENDORSED by Dota™, Dota 2™, Steam™, Dota 2™, the Dota logo® and Steam™ are trademarks of Valve Corporation.