Enigma is a ranged intelligence hero that is typically played either as an offlaner or a utility support. Designed as the personification of the void and other such cosmic energies, his kit includes a variety of disruptive abilities, as well as one that allows him to control ethereal minions called Eidolons.
His first ability, called Malefice, applies a staggered stun onto a single enemy target. Malefice repeatedly stuns the enemy every two seconds, up to three times in a single cast. Each stun also deals a small amount of magic damage. Although it isn't as potent as more common stuns like Sven's Storm Hammer or Vengeful Spirit's Magic Missile, Malefice is certainly still quite useful, especially against heroes with particularly long cast animations or those reliant on Blink Daggers to escape.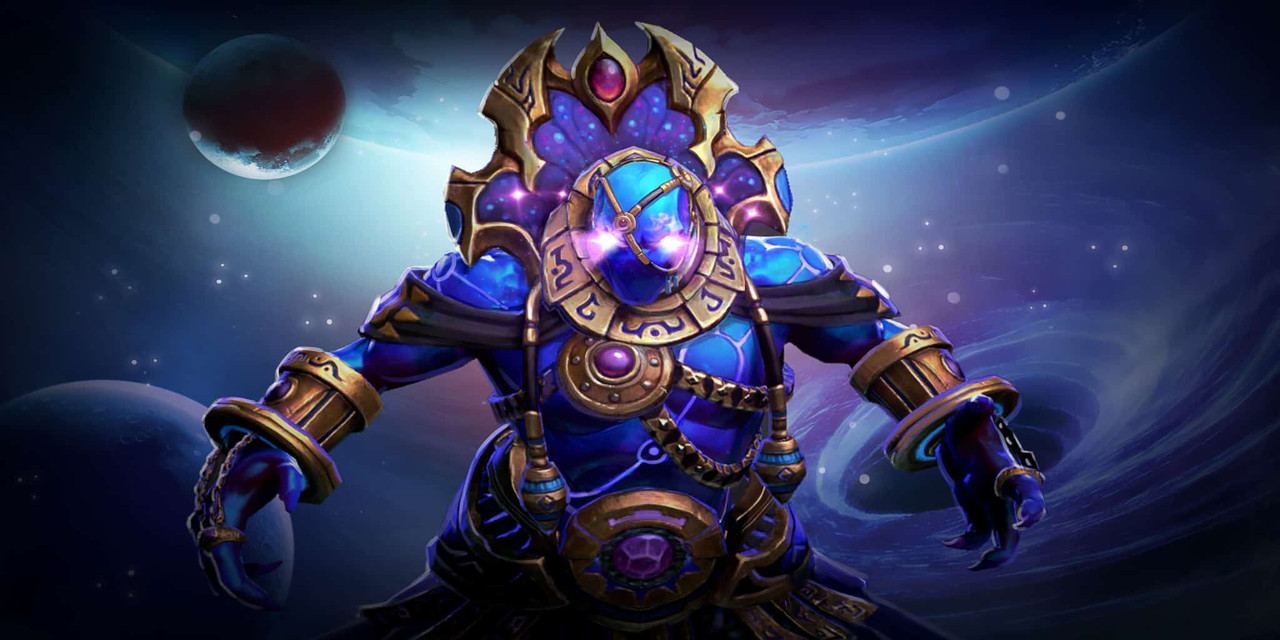 Image via Valve
His second ability, Demonic Conversion, instantly kills an allied or enemy creep—and turns them into three mini "clones" of Enigma called Eidolons. The three initial minions deal a small amount of ranged physical damage, allowing Enigma to push lanes or farm neutral creeps in the jungle. Each Eidolon has the ability to split into two lesser Eidolons, if they are able to successfully land six attacks in their initial forms. Should this condition be fulfilled, each Eidolon will have their health restored.
His third ability, called Midnight Pulse, blankets a moderately-sized area with a malevolent force that deals damage to all enemy units within based on a percentage of their maximum health. This damage is of the Pure type, which means that it cannot be mitigated through magic damage reduction, or even blocked by full magic immunity.
While seemingly innocuous due to its average radius, Midnight Pulse's usefulness should not be underestimated—especially when considering that it deals 5.25 percent of a unit's max health when at Level 4. Midnight Pulse alone can stop entire pushes and high ground siege attempts, and can easily turn a teamfight in your favor if the enemy team decides to stand and fight inside its area of effect.
What truly sets Enigma apart, however, is his ultimate—the big daddy of all initiation spells in Dota 2: Black Hole. Enigma channels all of his cosmic power into creating a singularity on the battlefield, which sucks in all enemy units in its radius towards the center. Any and all foes caught in this maelstrom of gravity are fully disabled, silenced, and are unable to act at all. Black Hole lasts four seconds at all level, and deals up to 150 Pure damage per second in its area of effect.
Responsible for some of the Dota 2 professional scene's most iconic moments, Black Hole is easily one of the most devastating abilities in the game—with one huge caveat: it is a channeling spell. This means that heroes outside of the skill's radius will have a chance to stun, disable, or silence Enigma while he is channeling it, which ends the ability immediately. Its short cast range and somewhat small radius also mean that Enigma must be close to the enemy team in order to make the most out of the spell—which necessitates the purchase and use of a Blink Dagger. Silencer also practically hard counters Black Hole, as he can simply use Global Silence from anywhere on the map to put a stop to it. And finally, Black Hole's excruciatingly long cooldown makes it easy to play around, especially for teams that can group up and fight often.
But even with the high risk associated with Black Hole, Enigma's presence on the map alone strikes fear into the hearts of even the bravest players. One misstep could cause an entire team to be engulfed in an area-of-effect disable that seems to go on forever, thus guaranteeing their loss in the teamfight. It is the ultimate trump card for a team, and can serve as a deterrent when it comes to pushing out on the map.
Enigma Skill Build
Whether Enigma is to be played in the offlane or as the utility support, his skill build is the same throughout. The first priority is to get Demonic Conversion up to max as soon as possible, as Enigma really doesn't have any other way to farm for his core items in the laning phase without it. Moreover, each level invested into Demonic Conversion increases the attack damage of each Eidolon, allowing for faster farming of creep waves and neutral creeps. Pushing with maxed out Eidolons is also way easier than doing so with Demonic Conversion at Level 2 or 3.
Value points should be dropped in both Midnight Pulse and Malefice along the way, so that Enigma at least has a way of forcing some heroes to disengage when attempting to gank him. Of course, Malefice should take priority over Midnight Pulse going into the mid game, as Midnight Pulse becomes way more potent in the late game due to its multiplicative scaling. Malefice, on the other hand, has scaling that makes it far and away better as a mid game ability.
As his signature ability and practically the number one reason to even pick Enigma in the first place, Black Hole should be invested into at every ultimate level. Enough said.
Our recommended skill build, therefore, is as follows:
Demonic Conversion
Midnight Pulse
Demonic Conversion
Malefice
Demonic Conversion
Black Hole
Demonic Conversion
Malefice
Malefice
Level 10 Talent: +25 Movement Speed
Malefice
Black Hole
Midnight Pulse
Midnight Pulse
Level 15 Talent: 15% Cooldown Reduction
Midnight Pulse
Black Hole
Level 20 Talent: +70 Eidolon Damage
Level 25 Talent: +8 Demonic Conversion Eidolons
Enigma Item Build
Generally speaking, Enigma's usual core items will consist of the usual pickups for utility supports, with most of them leaning towards giving him instant mobility, protection against stuns and disables, and additional stats to shore up his low base health and mana.
To start things off, we recommend purchasing a Soul Ring and a Magic Wand, to help get you through the laning phase. Enigma normally does not mind trading away some of his health for extra mana, which he can use to fuel his farm through repeated use of Demonic Conversion. A Magic Wand also gives you instant regeneration when you really need it, and is particularly useful against heroes that tend to spam their abilities in lane.
Then, going into the mid game, you'll want to start working on getting your Blink Dagger. Apart from the obvious synergy with Black Hole, Blink Dagger also allows you to initiate on a single target by teleporting next to them and immediately casting Malefice. It also gives you a much-needed hard escape mechanism, which you will likely be using a lot due to Enigma's extreme vulnerability on open ground. After your Blink Dagger purchase is done, we recommend building a Helm of the Dominator, whose attack speed aura greatly aids your Eidolons. The active ability also gives you another creep to work with, which further strengthens your pushing power.
Once the game goes late, you will need a way to shrug off incoming stuns and disables, particularly when you're channeling Black Hole. Black King Bar is the most popular choice for this, as it protects you from a ton of negative effects and prevents a lot of heroes from simply stunning you out of your ultimate. However, because there are stuns and disables that pierce magic immunity, you might also want to consider grabbing a Linken's Sphere—in order to block things like Beastmaster's Primal Roar or Doom's Doom.
If you are able to farm for it, a Refresher Orb usually comes next after your protective item of choice. Refresher Orb effectively extends your Black Hole's duration to a whole eight seconds, which is an eternity in Dota 2. If your team is still unable to win a teamfight even with two consecutive Black Holes in play, it's either you are terrible at landing Black Holes on multiple enemy heroes, or something else is lacking in your squad.
The rest will be situational pickups, with majority being utility items that help your team isolate heroes or hinder high-priority targets. Shiva's Guard in particular is an excellent choice for Enigma, as it slows down physical DPS carries while tacking on more magic damage on top of Midnight Pulse. The movement speed slow also keeps enemy heroes within the Pulse's area of effect, which is always great. Aghanim's Scepter automatically applies Midnight Pulse when Black Hole is cast, saving you the precious split second needed to lay down Midnight Pulse before starting Black Hole. Of course, you can still opt to do this even with Aghanim's Scepter in tow, which creates a disgustingly powerful combination. Scythe of Vyse cripples certain heroes in the late game instantly, due to its active ability not having any sort of cast animation.
Enigma Combo
Enigma's teamfight rotation is relatively simple, though making the most out of it does take quite a bit of finesse and finger dexterity. As you will likely be the team's primary initiator, your goal is to get as many of the enemy team's heroes as possible in Black Hole. You will normally use Blink Dagger in order to accomplish this, though this may not be viable in the early game for obvious reasons.
Either way, the optimal combo for this is to use Midnight Pulse first, then Black Hole to maximize damage. If, however, disabling the enemy team is a higher priority than applying more damage over time, just go for the Black Hole by itself and having your teammates clean up. If you have a Black King Bar, be sure to use it before you blink in and initiate, because activating it during Black Hole's channeling time interrupts the ability.
You might also want to have your Eidolons on a control group before jumping in, as they can provide free damage on a single target caught within Black Hole. Of course, if you don't have any Eidolons and your team really needs the initiation, just leave Demonic Conversion off cooldown. If there are targets still alive after Black Hole is done, use Malefice on them to prevent them from escaping.
Enigma Counter
Dealing with Enigma usually entails drafting hard counters, in order to cancel Black Hole as soon as possible from a safe distance. As mentioned earlier in this guide, Silencer is Enigma's worst enemy, because Silencer can simply wait for Black Hole to go off before hitting Global Silence to put a stop to it instantly. This silence also happens to go through magic immunity, though only if it is applied after the magic immunity goes on Enigma. Still, there is plenty of room for Silencer to simply wait for an opportune moment.
In addition, heroes with abilities that can stun, disable, or silence him directly through magic immunity (typically through single target spells) work well against him. Vengeful Spirit's Nether Swap (and her Magic Missile with the corresponding Level 25 talent), Winter Wyvern's Winter's Curse, Warlock's Chaotic Offering, and Clockwerk's Hookshot are only a few examples of these spells.
Rubick gets special mention as a counter to Enigma, for he can use Spell Steal in order to copy Black Hole for himself. This can cause serious problems for the enemy team, who might find themselves on the receiving end of one of their most important teamfight abilities. Moreover, Telekinesis has a cast range greater than the radius of Black Hole, which allows Rubick to interrupt Enigma with ease as long as he is not under the protection of BKB or Linken's Sphere.
* FirstBlood® is NOT AFFILIATED, AUTHORIZED, LICENSED OR ENDORSED by Dota™, Dota 2™, Steam™, Dota 2™, the Dota logo® and Steam™ are trademarks of Valve Corporation.