The Morphling is a ranged agility hero whose design revolves around extreme flexibility, nearly unlimited magic damage scaling, and the ability to shapeshift into a chosen enemy hero while copying their abilities. Morphling is renowned for being able to adapt to nearly any situation he might find himself in, by using either the opponents' weapons and spells against them or giving himself more health or damage in a fight.
His first ability, called Waveform, causes Morphling to become completely liquid, surging forward in a violent wave. Any enemy units caught in his wake are dealt a moderate amount of magic damage, thus making Waveform an excellent initiation tool. It can likewise be used to chase fleeing heroes, or those that need that one last bit of damage to kill. It is also great for farming creep waves, though it is limited by Morphling's rather small mana pool.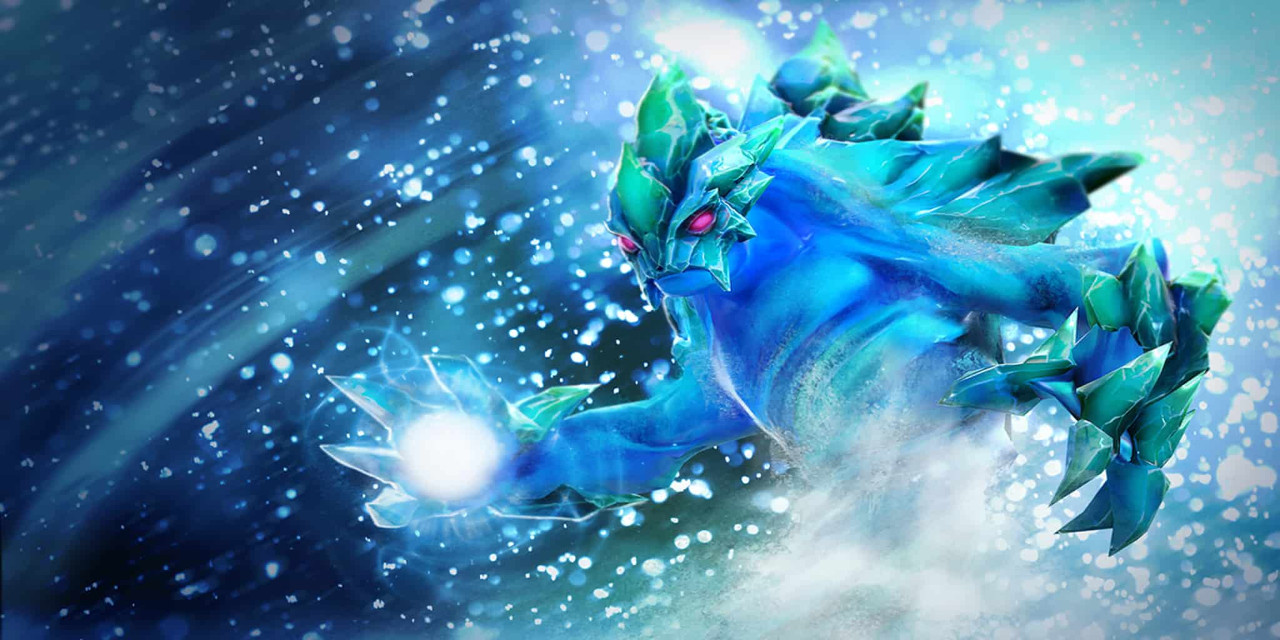 Image via Valve
Morphling's incredible late game scaling comes from his second ability, Adaptive Strike. This spell is made up of two components, with the first being based on his current agility value and the other being based on his current strength. The agility based one deals a base 100 magic damage to its target, plus a value which is determined by his agility. This value is multiplied by at least 0.5 times, with a maximum multiplier of 2.5 times if Morphling's agility is 50 percent higher than his strength. For the strength component, instead of dealing scaling damage, it stuns the target for up to three seconds, using the same mechanics as the agility component.
Adaptive Strike is easily Morphling's most dangerous spell, especially in the late game when he typically has several agility-boosting items in his inventory. Supports and core heroes alike both feel the sting of Adaptive Strike's scaling damage, while the strength component may also be used to disable key targets for a fairly long period.
Complementing Adaptive Strike is his third ability, called Attribute Shift. With this spell, Morphling is able to gradually yet quickly transfer points from strength to agility and vice versa. Leaning more towards strength increases his HP regeneration and maximum HP, while doing so over to agility increases his attack damage, attack speed, and armor. Both sides feed directly into Adaptive Strike's mechanics, allowing Morphling to easily switch between high magic damage and a long duration stun depending on the situation. In addition, both sides allow him to either survive for longer (thanks to the additional HP from the strength shift) or deal more regular attack damage—which makes him a very flexible carry.
And finally, there is his ultimate ability, Morph. With it, Morphling can transform himself into an imperfect clone of a targeted enemy hero, copying their non-ultimate abilities, attributes, movement speed, attack type, and attack range. Essentially, Morph turns Morphling into an even better version of Rubick, as he is able to use not only one stolen spell at a time. With creative application, Morph can easily turn the tide of battle in your team's favor, by giving the enemy team a taste of their own medicine. Morph is one of the most difficult abilities in the game to use as a result, but its potential is almost unlimited—kind of like Adaptive Strike.
Sadly, not everything is smooth sailing for Morphling, despite his unique strengths and playstyle. A small mana pool, below average attack range for a ranged carry, and extreme item dependency hold him back from "overpowered" territory. He is also very vulnerable to silences and disables, as his entire kit of spells is made up of active abilities.
Morphling Skill Build
Although Adaptive Strike has the potential to make Morphling a powerful ganker and/or utility support hero, we do not recommend going this route due to his small mana pool. Adaptive Strike's 80 mana cost seems small on paper, but it does add up considering its cooldown and the fact that there are two separate parts to it that you can cast in fairly quick succession. Save it for the carry build, which we'll get into in this guide.
Ideally, you'll want to take Attribute Shift as your first ability, so that you can put more points into agility in order to increase your last hitting power in the lane. Do note that this severely gimps your maximum HP in the early game, which renders you vulnerable to early dive attempts. Play safely until you hit Level 2, which is when you'll get your first point of Waveform. Trade points between these two abilities as you go up in levels, with Waveform taking priority because of its early game utility and power. Morph can be saved until Level 9, as the two prior abilities are more important to max out early.
Adaptive Strike, on the other hand, should be left for the mid to late game, as its scaling is entirely dependent on your stats. Most of this will come from your items, which of course you'll need to farm for. Its potential is wasted in the early game, so don't bother getting it until you're able to acquire your core items.
Our recommended skill build, therefore, is as follows:
Attribute Shift
Waveform
Waveform
Attribute Shift
Waveform
Attribute Shift
Waveform
Attribute Shift
Morph
Level 10 Talent: +10 Agility
Adaptive Strike
Morph
Adaptive Strike
Adaptive Strike
Level 15 Talent: +30 Attack Speed
Adaptive Strike
Morph
Level 20 Talent: Waveform Attacks Targets
Level 25 Talent: +3 Multishot Adaptive Strike
Morphling Item Build
Morphling's usual arsenal of weapons consists of items that increase his attributes, as he needs plenty of bonus stats in order to reach his full potential. His dependence on Adaptive Strike and shifting over to agility with Attribute Shift also mean that his health pool will be rather small for most of the game, which makes him vulnerable to high damage nukes. This is fixed by purchasing protective items such as Linken's Sphere or Black King Bar, with the former being preferred over the latter due to its better stat spread.
Before getting to your core items, though, there are some cost-effective preliminary pickups you should grab. A pair of Power Treads provides a good amount of extra stats for cheap, and switching between the three modes allows you to abuse restorative items easily. Casting spells while it is on intelligence mode also softens their mana costs, which is important to a hero with such a small mana pool. We also recommend purchasing a Magic Wand, which heals you for basically your entire health bar if all of your points are in agility and you happen to have a decent number of charges stored up.
Going into the mid game, you should first assess the situation by looking at the enemy team's lineup. If they have a few problematic single target spells, then a Linken's Sphere becomes a no-brainer. The additional stats and regen are very valuable, and the spell block gives you a split second to react to a gank attempt. Otherwise, you may want to get a Black King Bar instead—though this is far from ideal as it only gives you additional strength on top of the magic immunity. If buying BKB can be avoided, then we urge you to do so.
After your protective item comes the most difficult choice when it comes to Morphling's items: whether or not to buy an Ethereal Blade. Morphling is actually one of the strongest users of Ethereal Blade in the game, perhaps second only to Tinker. This is due to the fact that Adaptive Strike deals magic damage, and that the active ability on the item itself also deals damage based on Morphling's agility. Dubbed "Shotgun Morphling", Ethereal Blade combined with Adaptive Strike allows him to one-shot most heroes in the game, barring strength heroes with high strength gain per level.
Of course, Ethereal Blade's usefulness drops off significantly as the game goes late, especially when heroes start to move around the map together, get BKBs or Linken's Spheres, or simply tank up with health items. This means that it needs to be built fairly quickly in order to maximize its effectiveness, thus making it a timing window item. Should this window close before you are able to complete the recipe, we suggest going for the traditional right click build instead. Fortunately, Ethereal Blade can be disassembled once it is no longer needed, in order to make way for a Butterfly later on.
The rest of your items will be mostly situational pickups. Eye of Skadi is one of the more popular choices, thanks to the massive increase in stats that it provides alongside the very useful Frost Attack modifier. Dragon Lance into Hurricane Pike increases your poor attack range, while also giving you more mobility to elude your enemies with. If purchased in the early game, you can even disassemble it to make way for a BKB and/or a Yasha. The latter can then be upgraded into a Manta Style, which greatly increases your physical DPS and gives you the ability to purge off silence effects with the press of a button. Satanic allows Morphling to keep up with harder carries, by using his full-agility DPS to heal himself as he fights.
Morphling Combo
Morphling's usual combat rotation is pretty simple to pull off, at least before Morph is thrown into the mix. It's just a matter of initiating with Waveform, hitting a soft target with full-agility Adaptive Strike, then finishing them off with right clicks. If you find yourself unable to act due to a stun or disable, start shifting over to strength in order to keep yourself alive.
Once Morph becomes part of the combo, though, things get a bit more complicated. Knowing which heroes to copy and when to switch back to your normal form (and back to the copied form) can be tricky, especially in the heat of battle. It also depends mostly on the specific situation you're in as well as which heroes are around for you to copy. This isn't something that can really be taught through a guide, but we recommend copying enemy heroes that have stuns and/or disables that you can use on their team. This will at least buy your team time to reposition or clean up in a teamfight, which should not be underestimated at all.
Morphling Counter
Morphling is particularly vulnerable to burst damage, due to the fact that he usually runs around the map with a much smaller health pool than most other heroes. A single Laguna Blade or Finger of Death while he is at full agility can bring him down to within an inch of death, though these are both blocked by BKB and Linken's Sphere. Area of effect nukes also work well in this regard, though on average they deal less burst damage than the single target variety.
Exploiting his tiny mana pool is also another viable strategy. Without access to his spells, Morphling's only recourse is to shift attributes in order to survive. Barring extreme late game situations where he is just so overfarmed that he can stand and fight even without mana, Morphling becomes a sitting duck if he does not have access to his spells.
Attribute Shift allows Morphling to put on a ton of armor from agility, which means that he is able to go toe to toe with physical damage carries without breaking a sweat. Reducing this armor through abilities or items, or bypassing it completely with magic damage can help cut him down to size. Outworld Devourer can ignore Morphling's armor with Arcane Orb, and blast him into oblivion with Sanity's Eclipse due to his low base intelligence. Invoker's Sunstrike deals an almost obscene amount of burst damage if it lands, though this can be difficult to do considering that the animation is so long that Morphling can shift to high strength before the spell even hits.
* FirstBlood® is NOT AFFILIATED, AUTHORIZED, LICENSED OR ENDORSED by Dota™, Dota 2™, Steam™, Dota 2™, the Dota logo® and Steam™ are trademarks of Valve Corporation.