Nerif, the Oracle, is a ranged intelligence hero commonly played in the hard support role. As the weaver of fate itself, Oracle sports an arsenal of spells that either heal allies or harm enemies, as well as purge effects from any targeted unit.
His first ability, Fortune's End, causes Oracle to charge up a bolt over a maximum of 2.5 seconds. If the bolt makes contact with an allied unit, Fortune's End removes most negative effects from that unit. If, however, the bolt lands on an enemy unit, that unit and their allies in a small area around them are dealt a moderate amount of magic damage, and become rooted in place for an amount of time determined by how long the bolt was charged for—on top of the purge effect. Given its fairly decent cast range, Fortune's End can be charged up under the cover of the fog of war, allowing Oracle to keep multiple targets in place from a fair distance away.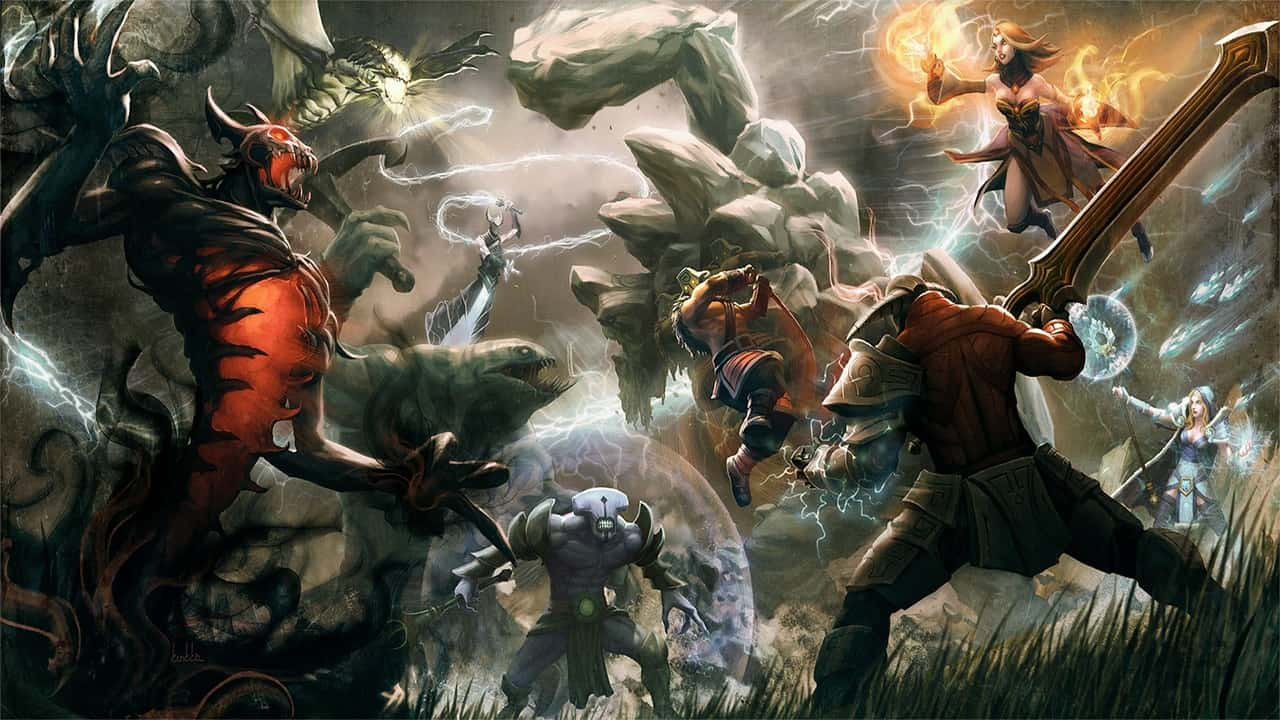 Image via Valve
His second ability, called Fate's Edict, disarms a target unit and gives them 100 percent magic resistance for up to 4.5 seconds. This spell may be cast on friends and foes alike, and can be used to either protect allies from harmful magic or render the enemy carry useless for a rather long duration. This means that Fate's Edict has a rather high skill ceiling for a single-target spell, and can be extremely impactful when used correctly.
His third ability, Purifying Flames, applies a magic damage nuke on the target unit—whether friend or foe. After the initial damage is applied, the unit then begins to regenerate health over 9 seconds, the total of which exceeds that of the initial damage. This damage is lethal to enemy units, but leaves allies with at least one point of health remaining. Purifying Flames also has a very short cooldown of 2.25 seconds, which allows Oracle to stack it repeatedly on the same target or use it on others.
Purifying Flames synergizes directly with Oracle's ultimate, False Promise. False Promise delays all damage and healing on a target ally, thus leaving their health at the exact same value when the spell was cast for up to 10 seconds at a time. Any healing received during this time is doubled, while incoming damage is left as is. Once the ability ends, the healing is applied if the total value was greater than the damage received. False Promise essentially functions like Dazzle's Shallow Grave, preventing allied heroes from dying while also giving them a chance to receive burst healing at the end.
From his kit, it's clear that Oracle is meant to be a single-target cleric, keeping debuffs off of his allies and healing them over time. False Promise also acts as a "second chance" mechanic, and can definitely turn teamfights that your team would otherwise lose handily. The spammable nature of his nukes also means that he can be active several times in an engagement, as opposed to heroes with longer cooldowns that must wait several seconds in order to use their abilities again.
He does, however, have glaring weaknesses that should not be overlooked. For one, he does not have any area of effect spells, which means that he literally has a singular focus in battle. His kit is also quite difficult to learn and understand for new players, and requires plenty of practice to get the most out of. His arsenal requires an almost extreme level of game sense, in fact, as one mistake can essentially seal one of your allies' fate in a negative fashion.
Oracle Skill Build
Oracle's skill progression generally has two branches, which diverge depending on which abilities are needed earlier. One route maxes out his dispel and nuke potential, while the other invests more heavily into disrupting melee cores/carries in the laning phase and mid game. Regardless of which route you choose, though, we recommend Fortune's End as your first ability, since you can use it to root certain heroes when contesting Bounty Runes and whatnot. Both routes also max out Purifying Flames first, for it is used to score easy last hits when you are able to farm and heal your lane partner for cheap. It is easily Oracle's best early game ability, so we suggest investing the most into it first.
The differences between the two routes lie in Fate's Edict and Fortune's End. Fate's Edict should be given second priority when going up against strong carries, so that you can disarm them in mid game gank attempts and/or teamfights. Fortune's End, on the other hand, is more useful if your team really needs the control and damage.
Either way, though, you should take False Promise at every given opportunity. It's just too good to pass up, full stop.
Our recommended skill builds, therefore, are as follows:
Dispel/Nuke
Fortune's End
Purifying Flames
Purifying Flames
Fate's Edict
Purifying Flames
False Promise
Fortune's End
Fortune's End
Level 10 Talent: +25% XP Gain
Fortune's End
False Promise
Fate's Edict
Fate's Edict
Level 15 Talent: +150 Cast Range
Fate's Edict
False Promise
Level 20 Talent: +50 Movement Speed
Level 25 Talent: +2 False Promise Duration
Anti-Carry
Fortune's End
Purifying Flames
Purifying Flames
Fate's Edict
Purifying Flames
False Promise
Purifying Flames
Fate's Edict
Fate's Edict
Level 10 Talent: +25% XP Gain
Fate's Edict
False Promise
Fortune's End
Fortune's End
Level 15 Talent: +150 Cast Range
Fortune's End
False Promise
Level 20 Talent: +50 Movement Speed
Level 25 Talent: +2 False Promise Duration
Oracle Item Build
Oracle's usual arsenal of items isn't really that big, and will generally be limited to cost-effective utility items unless he somehow is able to grab a lot of farm. Most of these items will focus on making his kit better and his job easier.
In the early game, you will likely be expected to buy Observer and Sentry Wards—which will keep you from hitting your core items early on. This is fine, of course, since your kit is still very powerful even without items. That said, you'll want to at least aim for an Urn of Shadows to start with, since it adds more healing on top of what you already get from Purifying Flames. Pair this with some Arcane Boots afterwards, and you'll have plenty of sustain for both yourself and your teammates.
Going into the mid game, you can choose to either purchase a Holy Locket for even more healing, or an Aether Lens so that you can cast your spells from further away. Fortune's End in particular benefits nicely from Aether Lens, since you can get the full channel off while under the cover of fog of war. Of course, Holy Locket should take precedence if your team needs more sustain in teamfights.
From there, it becomes a matter of whether or not you are able to get the farm necessary for your late game items. As you are a high priority target for the enemy team, this may not be viable in every game—but in case you are able to, here are your choices: Glimmer Cape can be used to save teammates or yourself, thanks to the invisibility and magic resistance attached to its active ability. When combined with Fate's Edict, it can protect one of your allies from magic damage for a really long time. Force Staff can be used to give yourself some mobility (which you definitely appreciate as Oracle), and another way to rescue your allies. Eul's Scepter of Divinity serves as a nice mana battery, while increasing your movement speed and adding an actual disable to your kit.
For extreme late game situations, we recommend things like Lotus Orb, Aeon Disk, Shiva's Guard, and Scythe of Vyse. Lotus Orb greatly increases the threat level of False Promise, since you can protect the False Promise target with Lotus Orb's active ability. Aeon Disk prevents you from getting hit with burst damage that would otherwise be lethal. Shiva's Guard should normally be left to your semicarry or midlaner, but it's definitely a good choice for you as well since it disrupts carries and the Arctic Blast nukes things down in a large area. Scythe of Vyse is of course a classic intelligence support item, and can be used to disable key targets instantly.
Oracle Combo
Unfortunately, there is no cut-and-dry teamfight rotation for Oracle, as his entire kit is very situational and dependent on what exactly goes down in a teamfight. There is no exact science to using his double-edged arsenal of spells, and will take practice and plenty of game sense to get used to.
We recommend taking the hero for a spin through unranked queue for a bit, in order to learn and acclimatize to his spells. Eventually, knowing which ones to use becomes second nature.
Oracle Counter
As someone who requires all of his spells to combo with his teammates in fairly rapid succession, the one thing Oracle really does not appreciate is the silence mechanic. Locking away his entire kit behind a silence turns Oracle into a sitting duck, unable to assist his teammates with his abilities. Night Stalker feasts on Oracle, and so does Grimstroke, Disruptor, Earth Spirit, and other similar heroes.
Likewise, stuns and disables can put a stop to Oracle fairly easily. Since he probably won't be able to afford a Black King Bar or Linken's Sphere, Oracle really has no way of avoiding disables. Lion, Shadow Shaman, and Nyx Assassin do well against him in this regard. Nyx Assassin in particular can dissuade Oracle from using Purifying Flames on him, due to the effects of Spiked Carapace.
* FirstBlood® is NOT AFFILIATED, AUTHORIZED, LICENSED OR ENDORSED by Dota™, Dota 2™, Steam™, Dota 2™, the Dota logo® and Steam™ are trademarks of Valve Corporation.