Tiny, the Stone Giant, is a melee strength hero with some of the highest burst damage potential in the game. With his two nukes, called Avalanche and Toss, he is able to wipe fragile heroes from the face of the earth in the blink of an eye.
Avalanche is a simple area-of-effect stun ability, with a moderate amount of magic damage attached to it. By causing a rock slide, enemy units caught in its wake are repeatedly stunned by the rocks while taking damage as well. Aimed correctly, Avalanche can lock down several heroes, preventing them from retaliating.
Toss, on the other hand, hurls either the closest unit—whether friend or foe—towards the targeted unit, dealing magic damage in a small radius once they land. Should the tossed unit be an enemy, they also take an additional 30 percent magic damage. However, it is possible to simply toss units in place, a mechanic which helps keep targets inside Avalanche's radius. In addition, Toss can be used to deal damage to structures, which helps Tiny and his team push down objectives at an increased pace compared to most other heroes.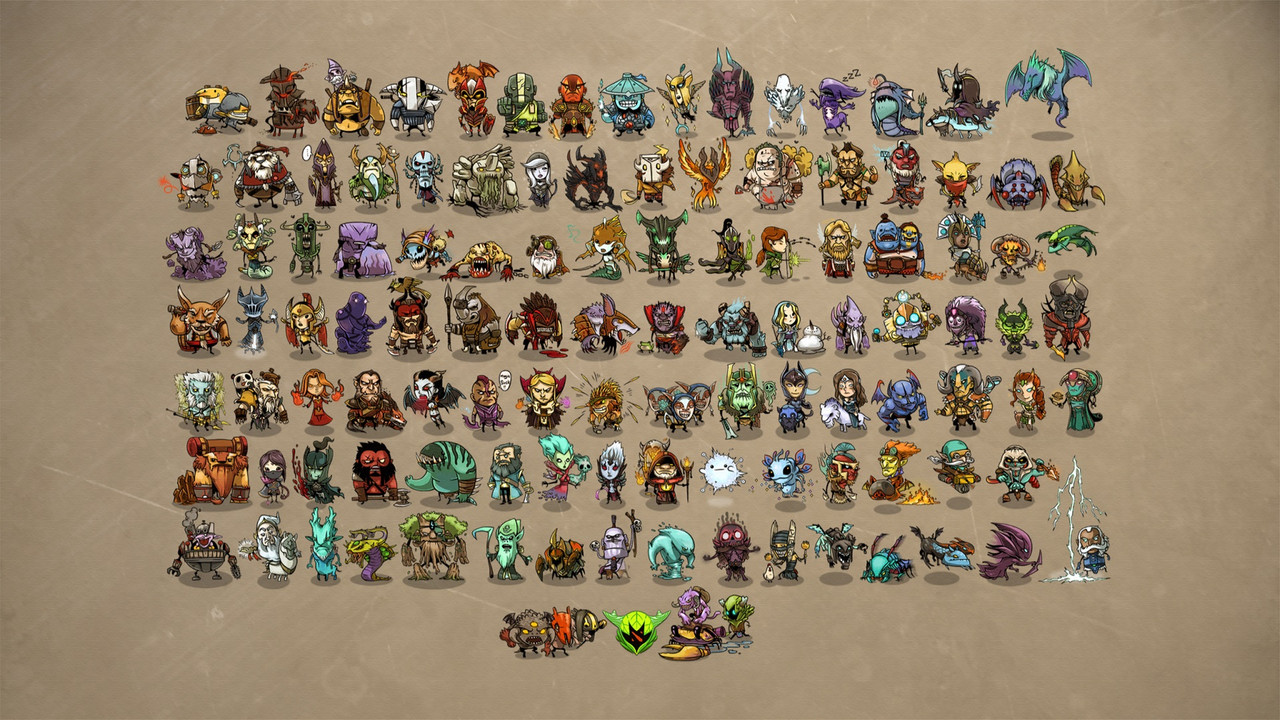 Image via Valve
To complement his first two abilities, Tiny has Tree Grab, which does exactly what it says on the tin: allow Tiny to uproot a tree on the map and use it as a weapon. While wielding trees, he deals 40 percent more attack damage to enemy units, and twice that to buildings. When it comes to the former, Tree Grab also causes Tiny's attack to deal cleaving damage, thus allowing him to farm creeps faster and hit multiple enemy heroes should they be foolish enough to stick together in front of him. Tree Grab does, however, have a limited number of hits before the tree itself breaks, making it a temporary bonus at best.
Tree Grab also has a sub-ability called Tree Throw, which causes Tiny to chuck the tree he's holding up to 1300 range in front of him. If thrown at a specific unit, that unit takes 140 percent of Tiny's attack damage, while their allies receive splash damage should they be nearby. Tree Throw is a good way to make use of a tree's last hit before it expires, and can also be used to last hit creeps in the lane from a very safe distance.
Tying this all together is his ultimate ability, Grow. With each level, Tiny increases his mass and size, giving him increased attack damage and armor while also lowering his attack speed. The armor in particular is especially important to Tiny, who starts the game with zero agility and armor. He also does not have any agility growth per level to speak of, which means that he cannot gain more armor naturally through the course of the game. The bonus damage, of course, is a nice touch—and pairs well with Tree Grab when it comes to Tiny's physical damage output.
In spite of his clear and obvious strengths, though, Tiny suffers from huge weaknesses aside from his lack of agility. His small mana pool is an issue for him the whole game, preventing him from using his abilities as often as he would like. He also requires a good start to the game, for his comeback potential is almost non-existent. And finally, Tiny is one of the slowest hitters in the game, which reduces his physical DPS by a ton.
Tiny Skill Build
Because Carry Tiny hasn't really been a thing for a while now (due mostly to Tree Grab's inconsistency versus Tiny's old Aghanim's Scepter upgrade), we don't recommend building him as such. Instead, we suggest focusing on his strengths as a ganker, one that doesn't need that many items in order to do well. This allows you and your team to give other heroes higher farm priority, without sacrificing your ability to pick heroes off in the early to mid game.
Ganker Tiny's skill build is ridiculously simple: get Avalanche and Toss to max as soon as possible, while getting Grow in between at every ultimate level. This allows you to maximize your magic damage output before hitting Level 12. A single value point in Tree Grab is taken at Level 1, but the rest of the ability is saved for the late game.
Our recommended skill build, therefore, is as follows:
Tree Grab
Avalanche
Toss
Avalanche
Avalanche
Grow
Avalanche
Toss
Toss
Level 10 Talent: +30 Damage
Toss
Grow
Tree Grab
Tree Grab
Level 15 Talent: +100 Avalanche Damage
Tree Grab
Grow
Level 20 Talent: -7s Tree Grab CD
Level 25 Talent: 3 Toss Charges
Tiny Item Build
As mentioned above, Ganker Tiny can do a lot even without that many items, thanks to the power and utility of his two main abilities. In fact, he only really needs a Blink Dagger to help close the gap to his targets, bursting them down to zero health before they even have a chance to react.
Of course, the road to a Blink Dagger won't be an easy one, regardless of which hero and position you're playing. Ganker Tiny also tends to be placed in the position 4 slot, which means that three other heroes on the team will have higher farm priority for most of the game. Fortunately, this is where Tree Grab and its cleave mechanics come in. If your position 5 support is good at stacking creep camps, you can use Tree Grab to farm a Blink Dagger fast enough to make the most out of the timing window.
After purchasing a Blink Dagger, we recommend buying items that help shore up Tiny's weaknesses. Although he does get armor naturally from each level of Grow, Assault Cuirass is a good way of bolstering his armor even further, while also improving his pitiful attack speed. Incidentally, this is when Tiny can transition into a core role from the 4 support slot, helping his teammates mow down towers and barracks with the bonus damage from Tree Grab. If you are able to find the space to make this transition, we suggest also stopping to buy a Black King Bar—for Tiny is particularly susceptible to getting kited and disabled from afar since he is a melee hero.
The rest of your items can be geared towards damage. A Daedalus works well with Tree Grab's cleave and bonus damage, similar to how Kunkka uses it with Tidebringer. Shadow Blade can be used as an alternative to Blink Dagger, and can be built into a Silver Edge later on to deal with passive-dependent enemies. Heart of Tarrasque gives Tiny a massive boost in strength, health, and health regeneration—which turns him into an unstoppable tank.
Tiny Combo
Blink in, hit the target with Avalanche and Toss. Whack them with a tree until they die, if they haven't already. Easy. The hard part, of course, is landing Avalanche correctly, since its radius isn't really all that big. Nothing that practice can't solve, though, so we suggest hitting the practice lobbies so you can get a better feel for it.
There's also the matter of using Toss in creative ways, which involves standing next to an allied hero and chucking them over to a target from a distance. This can be a "poor man's Blink Dagger" of sorts, partially solving some of your teammates' mobility problems. Doing this is especially useful when your draft contains heroes with potent but short ranged stuns and disables.
Tiny Counter
Tiny's biggest weakness is his lack of agility, which can be exploited by heroes that can reduce his armor or dish out several attacks in a short period of time. He loathes incoming physical damage, so drafting heroes that can punish him for existing is one surefire way of ruining his day. Slardar can obliterate him with Slithereen Crush and Bash of the Deep, which are both amplified by Corrosive Haze. Alchemist strips him of his armor with Acid Spray, while beating into him with Chemical Rage-enhanced attacks.
Ranged carries like Clinkz, Drow Ranger, and Sniper can also kite Tiny, who needs to be up close to even use his abilities in the first place. Likewise, heroes that can slow him down while disabling his Blink Dagger work well against him. Venomancer, Viper, Warlock, and Bristleback all fit this description. Bristleback in particular cares very little about Tiny's burst damage, thanks to his passive ability.
For those that fear his magic burst, a Black King Bar solves all their problems. Tiny cannot touch magic immune heroes without attack speed and damage, which limits his usefulness in teamfights. This does, of course, become less and less relevant as the game goes on, and each Black King Bar starts to lose maximum duration.
* FirstBlood® is NOT AFFILIATED, AUTHORIZED, LICENSED OR ENDORSED by Dota™, Dota 2™, Steam™, Dota 2™, the Dota logo® and Steam™ are trademarks of Valve Corporation.