Jah'rakal, the Troll Warlord, is an agility hero with the unique ability to switch between ranged and melee attacks at will with the press of a button. When he is throwing his signature tomahawks, Troll Warlord enjoys the benefits of being able to attack foes from a relatively safe distance. When he switches to close combat, though, he gains increased movement speed, armor, and attack speed—as well as a small chance to ensnare his target upon landing an attack.
This is facilitated by his first ability, called Berserker's Rage. Berserker's Rage may be activated at any time at no cost to Jah'rakal, as long as he isn't silenced, stunned, or otherwise disabled. This gives him plenty of flexibility to work with, especially in the laning phase where farming as a melee hero would otherwise be a risky proposition. When he is ready to scrap in a teamfight, he gets up close and personal, leveraging his increased attack speed to dish out heavy physical damage.
Berserker's Rage also affects his second ability, called Whirling Axes. When Jah'rakal is in ranged mode, Whirling Axes causes him to throw five axes in front of him, which spread out to cover a conical area. Any enemy units that the axes make contact with are hit for 75 magic damage, and are slowed for 40 percent of their movement speed. When in melee mode, Whirling Axes causes Troll Warlord to spin two axes in melee range around him, which deal up to 225 magic damage. Affected enemy units are also blinded for five seconds, causing them to miss 60 percent of all their regular attacks.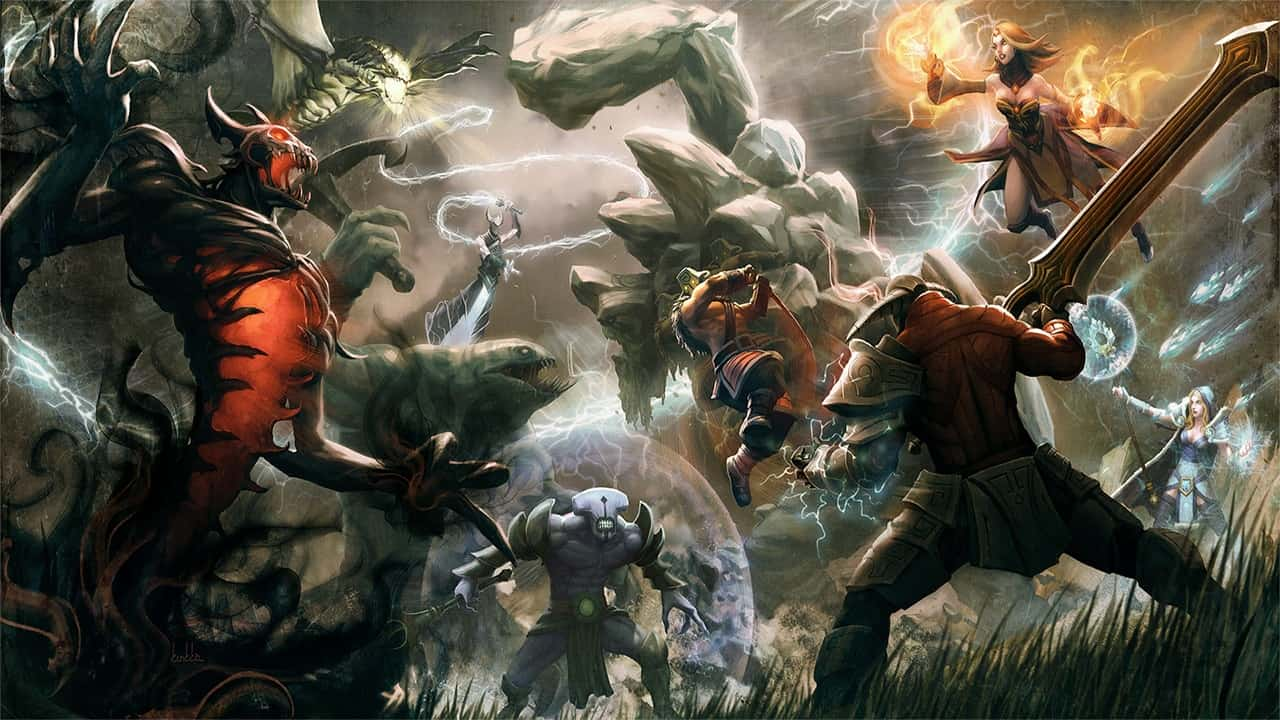 Image via Valve
Whirling Axes is an essential part of Jah'rakal's kit, serving multiple purposes in combat. In addition, both the melee and ranged versions have cooldowns independent of each other, which allows Troll Warlord to use them in quick succession. The blind effect from the melee version also greatly increases his effectiveness against other physical carries, making him a fearsome one-on-one combatant.
His third ability and his only passive skill is called Fervor. This ability grants Troll Warlord steadily increasing attack speed, so long as he keeps attacking the same target. The effect stacks up to twelve times, and resets back to zero if he changes targets. Fervor is easily one of the best physical DPS passives in the game, if Troll Warlord is able to land several attacks on one target. The attack speed bonus also feeds right into the root mechanic of Berserker's Rage, allowing Jah'rakal to root enemies more often. With late game items, Fervor allows him to deal incredible amounts of damage real fast.
His ultimate ability, called Battle Trance, causes Troll Warlord to launch into an uncontrollable frenzy, continuously attacking the closest enemy hero within a radius of 900 units. During this period, Jah'rakal cannot die from damage received from enemy units. In addition, he gains a huge amount of bonus attack speed, movement speed, and his attacks restore health on impact. Battle Trance essentially allows Troll Warlord to power through hectic teamfights, thanks to the extreme increase in DPS and the immortality effect that he receives. He is, however, unable to control whom he goes for, which can backfire in some cases.
And of course, even the craziest of beserkers have their shortcomings in battle. For one, Troll Warlord is very item dependent, and is pretty much unable to contribute without adequate farm. His vulnerability to stuns and disables is also a huge problem, forcing him to purchase a Black King Bar in almost every game he is picked in. His survivability is also largely dependent on lifesteal, which is directly related to the fact that he needs time in order to build Fervor stacks in combat.
Troll Warlord Skill Build
Because Troll Warlord is played exclusively as a carry, his skill build doesn't really have any variations to it. You generally want to get the most effective abilities in the laning phase as well as the mid game first, then max out Fervor to gear up for the late game where the attack speed will really come in handy.
Whirling Axes is generally where your first skill point should go, as it is your only slow and the only ability that allows you to deal burst damage in the early game. You can set up kills in lane with it alongside your lane partner if your synergy is on point, which can increase your farming pace and the rate at which you gain levels. Berserker's Rage comes after that, followed by another point in Whirling Axes. A single value point in Fervor is all you need early on, since it's going to be difficult to build stacks either way. It certainly helps when taking on jungle creep camps, though.
Whirling Axes should be maxed out first, in order to get the melee version's damage output up as soon as possible. Berserker's Rage is given second priority, since the movement speed increase per level is valuable in the mid game. Every little bit counts when you're a hero that can be kited as easily as Troll Warlord, after all. Naturally, Fervor is given last priority, as its scaling is dependent on how fast you can land attacks in order to build stacks in the first place. Of course, the rate at which you build stacks increases as your inventory gets filled with more carry items, as well as with the agility increase that you get per level.
Battle Trance should be taken at every available level, due to its great scaling. The bonuses to lifesteal and attack speed should not be underestimated, and can very well turn the tide of battle if you get the chance to activate it.
Our recommended skill build, therefore, is as follows:
Whirling Axes
Berserker's Rage
Whirling Axes
Fervor
Whirling Axes
Battle Trance
Whirling Axes
Berserker's Rage
Berserker's Rage
Level 10 Talent: +10 Agility
Berserker's Rage
Battle Trance
Fervor
Fervor
Level 15 Talent: +3 Max Fervor Stacks
Fervor
Battle Trance
Level 20 Talent: +50 Damage
Level 25 Talent: -6s Whirling Axes Cooldown
Troll Warlord Item Build
Troll Warlord's usual bag of items doesn't span a whole lot of pieces, and can be narrowed down to a few pickups that double down on his already impressive strengths. Lifesteal, protection, movement speed, and attack speed are what Jah'rakal wants, and so his item build will revolve around items that provide just that.
In the early game, you'll want to get a pair of Power Treads and a Morbid Mask. Power Treads is an obvious choice for an attack speed-dependent carry like Troll Warlord, and Morbid Mask provides lifesteal even outside of Battle Trance. The lifesteal is also really useful for clearing neutral creep camps in the mid game, which is also made easier by Whirling Axes.
Once the mid game starts to roll around, you'll want to purchase a Black King Bar. BKB allows you to go hard with Battle Trance in teamfights, without worrying about whether or not your rampage will be stopped by incoming stuns or disables. Moreover, Battle Trance only lasts six and a half seconds—which means that every second counts. BKB ensures that you get the most out of the ability.
And that's pretty much it for his usual core items. The rest will depend on the enemy team's draft. Butterfly is an excellent choice for going up against opposing carries, which supplements the evasion you get from Whirling Axes' blind mechanic. The agility and attack speed bonuses also greatly increase your DPS. Basher into Abyssal Blade helps you lock down fast-moving targets, and bash them into oblivion with your ever-increasing attack speed. Diffusal Blade can be used to slow down heroes that don't have hard escape mechanisms, and Fervor will allow you to burn off a ton of mana as well.
For DPS items, we recommend either Daedalus or Monkey King Bar. The former is best if you really need a lot of burst damage, and the latter is of course more suitable for going toe-to-toe with evasion-based carries. Either way, Fervor will help you trigger their passive effects more often.
Troll Warlord Combo
Jah'rakal's teamfight rotation is relatively simple, and doesn't really require a lot of thought—which is good news for those trying to learn him for the first time. You'll want to go in with Whirling Axes first—both the ranged and melee versions, in that order. If you have Black King Bar, pop it before using Battle Trance, as that split second can mean the difference between winning and losing the fight. From there, there's not a whole lot you can do for the 6.5 second duration, so be alert for when it ends.
Repeat the process as needed to clean up the rest of the enemy team, barring Battle Trance, of course.
Troll Warlord Counter
Jah'rakal's list of worst enemies include those that can prevent him from close enough to deal damage to soft targets with Battle Trance and Berserker's Rage—particularly through Black King Bar's magic immunity. Axe and Bane are perhaps the best examples of this, since they both have abilities that hinder Troll Warlord greatly.
Axe can use Berserker's Call to force Jah'rakal to attack him instead of his teammates, and he is able to take advantage of Troll Warlord's ramping attack speed to get more Counter Helix procs out. Moreover, Culling Blade will still kill Troll Warlord even under the protection of Battle Trance, as it is an instant kill effect that sets his HP to zero. Bane, on the other hand, can use Enfeeble to lower Jah'rakal's attack speed by a huge amount, which severely decreases his damage output. Both Nightmare and Fiend's Grip can be used to control Troll Warlord as well, with the latter being effective even in the face of magic immunity.
Illusion heroes also do particularly well against him, as Whirling Axes is just not enough for Troll Warlord to clear away illusions. One-on-one, Troll Warlord is a fearsome enemy, but faced with an army of illusions he can't really do much. Surrounding him with Terrorblade, Phantom Lancer, and/or Chaos Knight illusions will force him to either fight the images one by one, or run away to safety. If Battle Trance is already on, however, the latter choice gets eliminated altogether.
* FirstBlood® is NOT AFFILIATED, AUTHORIZED, LICENSED OR ENDORSED by Dota™, Dota 2™, Steam™, Dota 2™, the Dota logo® and Steam™ are trademarks of Valve Corporation.